Nationwide Resin Driveway Contractor

Looking for an alternative to block paving or tarmac driveways?
Look no further! Our experienced team at UK Surface Dressing can design, manufacture, and install a Resin Surface using high-quality UV-stable resins and a special blend of aggregates.
Tarmac Driveways are not always the first choice as resin bound surfacing has become an increasingly popular surfacing option, especially for driveways. More and more homeowners are taking advantage of the advanced properties of resin surfaces for their driveways, patios and paths.
The results are outstanding, with a beautiful finish and long-lasting durability that can only be achieved using this type of material and installation. Despite being permeable, weeds cannot grow through the surface which, once laid, will look amazing for many years to come.
Why choose us for your resin driveway in Surrey?
As an established Nationwide Resin Surfacing Contractor, we pride ourselves in the strong relationships we have built with our customers. Our clients benefit from resin driveway experts in Surrey with a track record of integrity and professionalism and our driveway resin surfacing services are of high quality and cost-effective.
A Trusted Nationwide Resin Driveway Contractor
Every driveway is tailored to the client's specific requirements, and with a range of colours and finishes available; the sky's the limit when it comes to customisation. If a new resin driveway is something that you're interested in, continue reading to find out how we can help.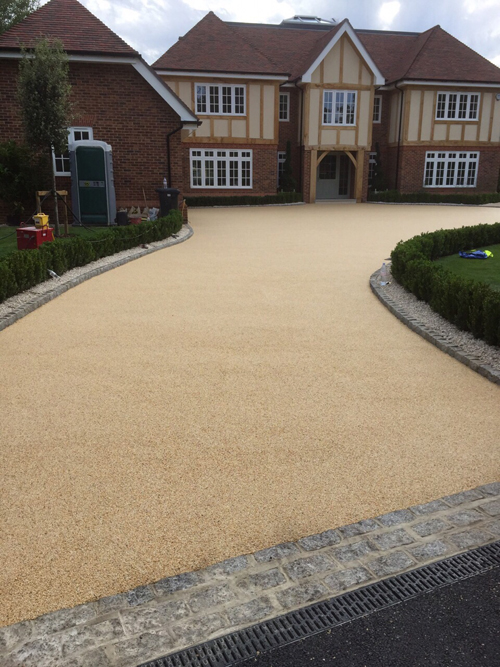 Email us today mbkcc@icloud.com with any road and driveway surfacing jobs
Why choose resin driveways?
A resin surface is ideal most commonly used for driveways, car parks, pathways, terraces, courtyards, and swimming pool surrounds.
Similar to block paving driveways, stunning effects can be achieved with resin driveways because of the flexibility of this product and the endless possibilities allowed by the colour combinations. Our resin bound driveways are expertly designed, installed and finished by hand.
The main benefits of a well laid resin bound driveway:-
Perfectly smooth finish
Low maintenance
Rapid installation
Environmentally friendly
No unsightly joins
Extremely hard wearing
Anti slip surface
Many colour combinations
Adaptable to curves and shapes
No fading due to optional UV-stable resin
Resistant to petrol, diesel and oil
Resistant to weed growth
No loose stones
Permeable surface